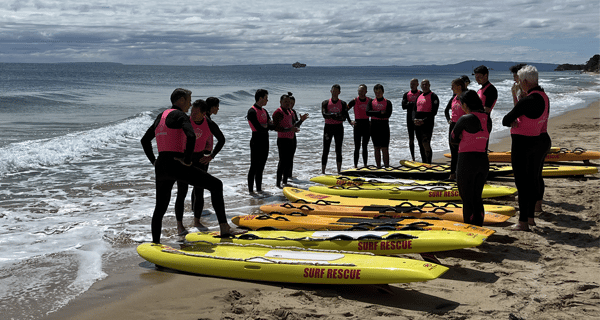 Part Time Bronze Program 2021 – Wrap Up!
November 22, 2021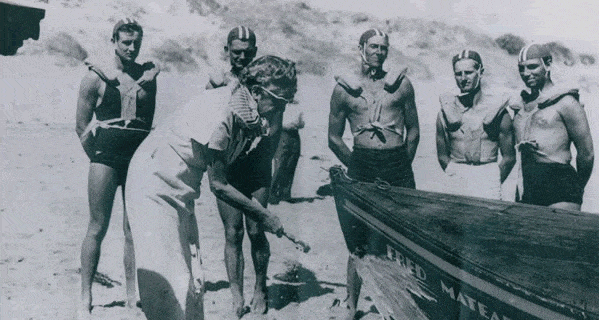 Back@The Back Beach, Vol. 4
December 8, 2021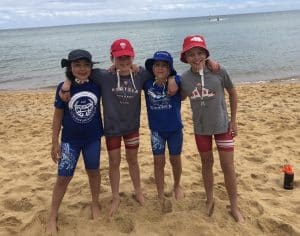 Competition and Carnival Report
With covid lockdowns finally lifting, a backlog of championship events, carnivals and state team trials were crammed into a busy season opening.
VICTORIAN ENDURANCE CHAMPIONSHIPS
The Portsea Team hit the aquatic sport scene at the Victorian Endurance Championships held at Cosy Corner Torquay. Conditions were challenging with high winds, choppy waters and cold weather. Thank goodness the rain held off. Twenty of our best competitors pulled on the red and white stripes and the carnival results showed our ever growing strength as a competition club, and reflected the hard work that many had done over winter both in the ocean, on the river and pounding the pavements. Portsea placed 4th overall in the club points tally, only 6 points shy of second place.
As we've seen in recent years, the open water swimming was our strength, followed by our runners and masters ski paddlers. Congratulations to our State Champion GOLD medallists:
Masters Female 2km Swim: Amanda Benson
U14 Female 2km Swim: Sophie Jacka
U15 Male 2km Swim: Logan Brandi
U17 Female 2km Swim: Mackenzie hunter
U17 Male 6km Ski: Gabe Cornwell
U17 Male 2km Swim: Xavier Purcell
Special Mention to Andrew Tucker, Portsea member who competes for Blackrock, first in Masters Male 2km Swim.
Link to Full Results: https://lsv.com.au/wp-content/uploads/2021-Victorian-Endurance-Championships.pdf
Thanks to our Portsea Team Support: Stu Larke (water safety), Chloe and James Cornwell (officials), Anthony Purcell (equipment logistics) and Nat Hood (admin).
MT MARTHA CARNIVALS
The next event was a double header Senior/Junior Carnival at Mt Martha. In addition to our teams competing both days, Portsea was rostered to a number of support duties to help out our Peninsula neighbour. Special thanks to our Portsea officials Chloe Hardman (Cornwell), Henry Kiss, Sam Horskins, Kate Murchie and Stephen Blewett and to our IRB duty team Sophie Courtney, Lachie Dowling and Oscar Hunter for attending in their support roles.
The senior carnival on Saturday was a designated Swim/Craft carnival, with a special inclusion of Belt Race, Tubes Races, and Tube Rescue Races. The near perfect conditions also allowed our ski paddlers to try their hand at synchronised paddling in the double ski events. Mackie Hunter and Xavier Purcell paired up together for the Open Mixed Double Ski, placing second. Mackie joined Poppy Cook from Mt Martha to take out the Open Women's Double Ski, and Xavier joined Club President Matt Mahon, to place second in the Open Men's Double Ski. Winter ski training on the Yarra paid off for both Xavier and Mack, both shining through in the Open Single Ski rounds, with Mack also taking out the Open Women's Surf Race, Belt Race and Rescue Tube Race.
Down in the Youth area, Mia Horskins teamed up with Annabelle Mahon to race round after round of swim, board, tube and iron. Ben Horskins put his hand up for water safety duties, and Sam Horskins pulled on his white shirt as an official. Mia bettered her Bronze medal Endurance performance, taking out the swim rounds in the shorter Surf Race distance, a great effort as a bottom age in the U15 event. In the Tube Races, Mia was first to the cans and Bellsy second in their respective rounds and both placed top 10 in the U15 Iron.
The Junior Competition Team followed on Sunday, led by Team Manager Michelle Stamper. Our team of ten, a mix of novice and experienced campaigners again enjoyed the low key feel of 'round racing', where the focus is on racing with as little down time as possible, and no recording of results. Despite results being 'unofficial' Portsea can boast a number of inspiring successes. Harley Lancaster and Ted McNamara won the U12 Cameron Relay joining forces with Blackrock, plus the Beach Relay event. Ted placed second in the Board Race and third in the Beach Sprint. Scarlett Lancaster was super quick to take second in the U10 Beach Sprint, Lucie Murchie won U11 Beach Flags and Hudson Spiegel took third in the U9 Beach Flags. Paddy Benson showed his versatility placing third in the U13 Beach Sprint, Surf Race and AquaCam and Jimmy McNamara was third in the U11 Iron.
A big thankyou to Jodi Lancaster and Matt Mahon for arriving at 6:30am for beach setup duties, and to Sam Horskins, Charlie McNamara, Anthony Purcell and Nat Hood for equipment logistics and admin, plus our age group managers. It takes a big effort from not just the competitors but our support team to make the day run smoothly and enjoyably.
Our Teams are always on the hunt for new talent and enthusiasm. If you are interested in joining the team either as a competitor or in a support role, please contact Andrew Regan 0413 607 805 or Natalie Hood 0410 001 367.