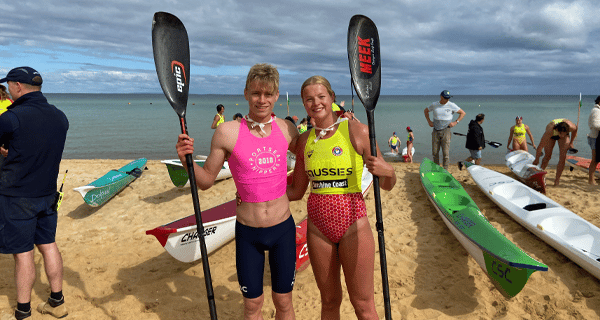 Competition & Carnival Report 2021
November 26, 2021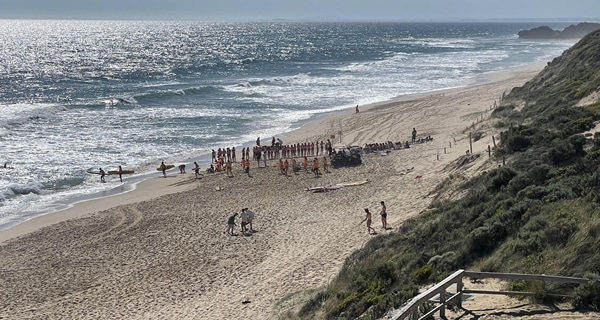 Bronze & Silver Camps 2021 – COVID Style
December 14, 2021
Surfboats at Portsea – 1950/51
The first surfboat owned by the newly formed Sorrento-Portsea Surf Life Saving Club was the "Fred Matear". This surfboat was bought in 1951 from the Torquay SLSC in where it was known as the "Mary Drysdale".
The boat was purchased with funds donated by Mr. and Mrs. Fred Matear, Bruce and Ian Matear and Mr. and Mrs. Keith Krohn.
In the accompanying photograph club president Mil Napthine can be seen peering in from extreme left, Crew from Left: Mal Hall, Alan Forster, Ron Knight, John Wishart, and John Kirchhubel.
Mrs Doris Matear can be seen in the fore-ground christening the boat.
In the 51/52 season the boat was entered in both senior and junior boat races at the Victorian Championships where Sorrento-Portsea finished in 4th in the senior event and 2nd in the junior race. The stroke of the senior boat, John Brockhoff, was unfortunately injured a week before the championships while training in the boat at Portsea, and was unable to compete.
The "Fred Matear" was sold to Lakes Entrance SLSC for £50 on 13 March 1957, then re-named The "Malcolm Campbell".
Ian Campbell, Club Historian