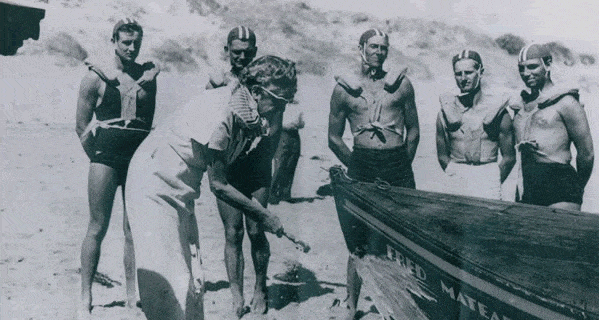 Back@The Back Beach, Vol. 4
December 8, 2021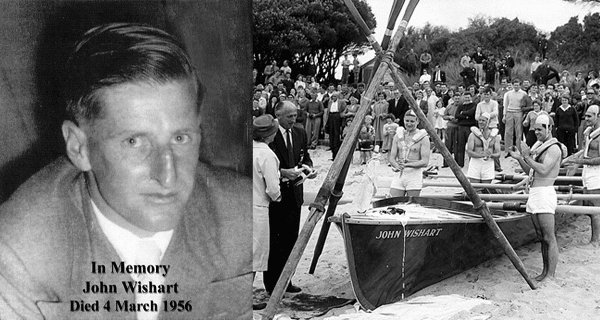 Back@The Back Beach, Vol. 5
December 22, 2021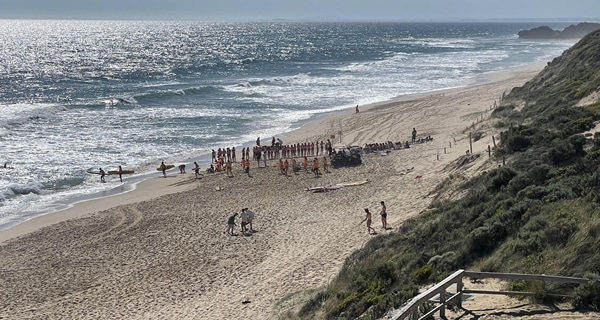 Our 2021 Bronzies and instructors waited with anticipation all through our latest lockdown to hear if the famous Portsea Bronze Camp would proceed.  After the 2020 'day' Bronze Camp and the cancellation of Silver, what could be done to keep everyone safe, keep covid out of our camps, and avoid turning extended Christmas gatherings into family isolation?
Pre-camp surveys were sent to potential candidates and 100% of replies indicated that our campers would be double vaccinated against covid, and would be happy to be tested before camp. A plan was hatched in conjunction with the Rosebud Respiratory Clinic (RRC) – Mornington Peninsula's largest hub for covid testing and vaccination.
This was the first outreach mass covid testing team that the RRC had assembled and they were as enthusiastic as us to make it work.  A team of eight arrived, dressed in full PPE and set up our first aid room as a 'testing hub'.  Our covid marshals kept camp arrivals lined up, masks on, checked off and distanced, as they filed in one door and out the next.  No one had heard of covid when we designed our first aid room, but it worked a treat with the flow of people.  Before they could even sneeze, two swabs were done on 130 campers – one for a rapid antigen test and another for a PCR test (standard throat and nose swab), then into a holding room until cleared. Laughing together, so happy to be back on site at the Mt Levi 'Hilton on the Cliff' – everyone was cleared on rapid antigen test.  The covid plan was to spread people out as much as possible night one, to minimise 'contacts' should there be any surprises with the PCR results.
There were some super efforts made to arrive safely at camp.  Some attendees lived in isolation in their own homes in the week prior, to keep themselves contact free.  Others even escaped and stayed elsewhere until their siblings returned negative tests after 'schoolies'.  Anyone with the slightest of symptoms was testing at home in the week before Bronze, praying to be negative. Late arrivals will also be formally tested, and anyone leaving will be tested upon return.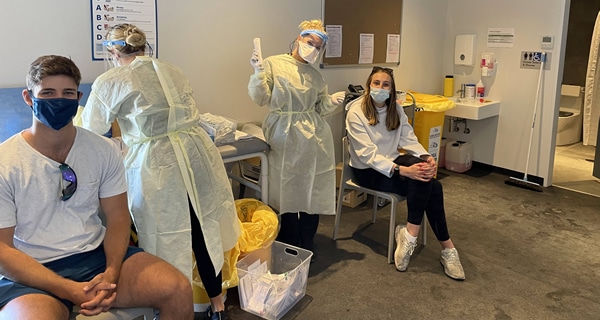 Camper leaders Alex Madden and Andrew May need to be thanked for their efforts in logistics, along the staff from Rosebud Respiratory Clinic, who we will see return on December 20 for the Silver Camp.
Back on the sand the excitement was palpable.  The water safety team, dressed in their customary orange, slapped the sea with rescue tubes, in a 'welcome to water' ritual.  The Bronzies donned high viz pink vests and lined up facing west, into the sunset over the ocean horizon. The call went up and our latest batch of active lifesavers took off under the waves, for the best week they will have in years!