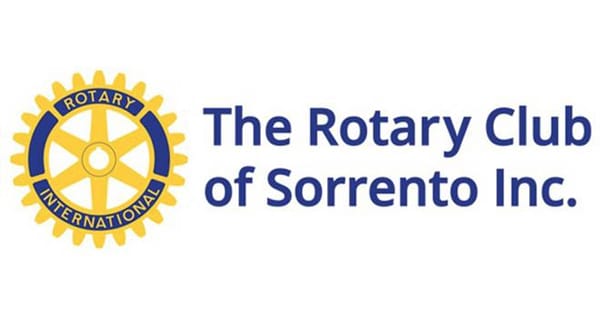 Sorrento Rotary Club – Walk for Mental Health
February 13, 2021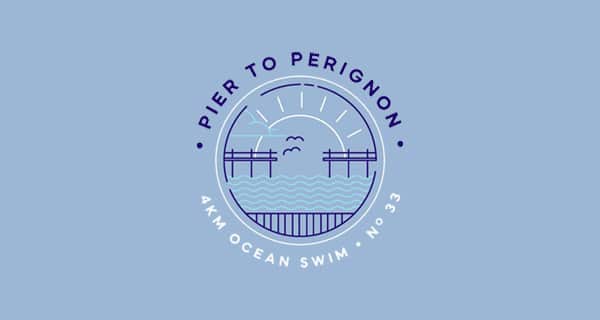 Messages from the founders of Pier 2 Perignon
March 18, 2021
Well, Lorne turned it on for the 2021 Masters, with perfect 2-3 foot surf and 26 degree sunny day. Life Saving Victoria split this year's Masters into two days with water events held at Lorne and two weeks later beach events held at Altona due to the state government Covid restrictions.
Our team numbers and other club numbers were well down from previous years. Due to the impacts of Covid and the five day snap lockdown the week prior to Lorne, and also as our beach team didn't attend Lorne. However, our team that attended Lorne were extremely dedicated and motivated to bring back to life surf lifesaving competition and move things forward.
This year our team consisted of a powerful, strong, skilled and experienced team. They all endured the severe months of the Covid lockdowns but continued to train through the lockdowns by doing whatever they could to keep super fit – like bench pressing their children, or running the streets with tyres tied behind them, or swimming the bay in 0 degree water in speedos, or doing circuits and CrossFit or yoga 3-4 hours a day on ZOOM calls….. then punishing themselves once out of lockdown in November and grinding 8 weeks of hard training back in the pool, skis, boards and running before Lorne… A marvellous effort by all to get to Lorne and wear our Red and White…
The Master team this year consisted of:
Dwight Harrison
Henry Kiss
Lyndall Willis
Annabel White
Cameron Hunter
Anthony Purcell
Michael Wilson
Matt Mahon
Dave Flockhart
Charlie Schall
The day began at 8.30am, with over twenty races to be contended in ski, board, swim, ski teams, double ski, board teams, board rescue, surf teams, ironman, ironwomen, etc.
Our ski team were first in the water and didn't our team go nuts. Chuck, Matty, Dave Flock and Whippy shined in their ski races and in the ski teams and double ski with all receiving medals are strong placing. Credit to our ski team and their massive improvements from their team training over the last year. It was brilliant to see Chuck, Matty and Dave dominate and show not just their fitness but real skills and technique.
Whilst skis were racing the women had also started their campaign with Annabel and Lyndall taking on 300 other women from other clubs. And didn't our Portsea girls shine too, with both winning Gold together in the board rescue with Lyndall swimming and Annabel paddling. They then both raced in individual swims and board races placing well in their races. Annabel won silver in her board 35yrs race and Gold in her Surf race 35yrs. We just needed more women to compete to then have more team events with Lyndall and Annabel. Women are such a huge number in competition at masters consisting of all ages from their 30's to 60s and prove it's never too late to start competition.
There are also competitors in their 70s, and we have the legend of surf lifesaving in his 70's(75), Whippy Wilson. Whippy dominated his age bracket and won Gold in four events – Ironman, Ski Race, Board Race and Surf Race. We had to send for security to protect him from the crowd and his gold medals not being stolen……. Well done Whippy you show us all that age is no barrier and we can all stay fit and keep racing.
The race of races then started, the Ironman. Camo and Dwight took to the line of the over 50yrs, against some of the cream of the state competitors they have raced against for 30 years. Camo and Dwight certainly looked in good shape and seem to be more interested in beating each other than the rest of the field!!! The ironman consist of three legs swim, board and ski. The gun went off, and the swim leg was off, Camo and Dwight flying out the back with both coming in 1st and 2nd out of the water to start the board leg with the competitors on their trail. Same with the board leg Camo held off Dwight on the board and both jump on their ski leg holding 1 and 2 until Camo takes a stronger lead and Half Moon Bay and Ocean Grove pass Dwight. Camo hits the beach first and jumps off his ski but collapses (not from the pressure of Dwight) but both his calves tear and he is unable to run. The second and third place competitors start running to the finish line but stop to help Camo to assist him over the line so Camo wins Gold………. Camo wins and Dwight 4th. Camo was unable to race for the remainder of the day and was wheelchair bound with ice packs with his Gold medal around his neck.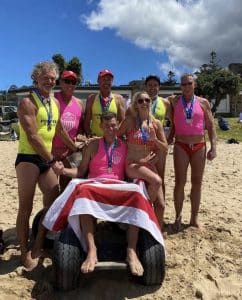 Then came the men's board races. Dwight was the only Portsea male competitor and raced in the 50yrs plus against 20 other competitors. Dwight was in the front pack of three that lead the other competitors and the three jostled all the way until hitting the beach with Dwight sprinting to the line but just beaten and took a Silver medal. Those days of surfing rescue boards out the back of Portsea evidence of Dwight's board training for Lorne.
Anthony and Dwight then did the board rescue team race, with Anthony swimming replacing Camo and Dwight paddling. Dwight and Camo were reigning Gold medallist in this event so there was pressure on Anthony to win and retain. The gun went off with Anthony blasting off the beach to swim to the buoy, was an amazing sight. With Dwight nervously waiting for the signal when Anthony hitting the buoy and raising his arm for Dwight to go. Dwight was more nervous as Camo in the previous year was swimming to the wrong buoy but luckily saw the correct buoy at the last moment. Anthony touched the buoy first and Portsea were in front and Dwight took off and keep the lead to the buoy. Anthony boarded the board with Dwight and the two started paddling back to shore with their 2nd and 3rd competitors right on their feet.
Unfortunately the racing malibu they were on wasn't buoyant enough for the two and was sinking, allowing the 2nd and 3rd place getters to paddle past them. So Anthony and Dwight won Bronze but will be back with a more buoyant board next year……. And less weight
The surf races were next and a huge number of competitors racing. Anthony raced in the 55yrs plus against some of the legends of Surf lifesaving and Lorne Pier to pub races, it was a huge start. With 20-30 top swimmers fighting to the buoys and charging around the buoys and back to the back with Anthony winning the Gold, great effort. Dwight was next racing in the 50yrs plus against his competitors he's raced for 20-30 years. Huge start by Dwight leading the way to the buoys and holding his ground on the way in but no waves and unluckily, a competitor behind pulled a wave and over took Dwight on the finish line with Dwight winning Silver.
Lastly due to Camo unable to race further, Chuck and Matty stepped in to race the surf teams with Anthony. Great to see our three master racing together in the surf teams but unfortunately just missing a medal but well positioned.
Throughout the day Henry was officiating for us with LSV, so thank you Henry again for your service and support. Thanks also to Oscar Hunter for fulfilling Portsea's IRB duties.
Henry competed two weeks later at Altona beach in the Master beach events. He was our only master competitor there as the P2P swim was on the same day, so most of us were helping at that.
Henry dominated, and kept our Portsea Club Red and White colours alive. Henry won Gold in the 50yrs plus beach spirit and Gold in the 50yrs plus Beach flags. If rules allowed he could have done all four legs of the beach relay and won that!!!
Henry is off to the Master Australian Titles next month with Matt, Anthony, Spot, Brett, Nat, Bec, Stu and Camo so hopefully they win medals there.
Summary of medals:
Henry – Gold 50yrs plus Beach sprint , gold 50yrs plus Beach Flags
Dave Flock – Bronze 50yrs plus Single ski, Bronze in double ski with Matt, Silver in Ski teams 150yrs with Chuck and Matt
Matt Mahon – Silver in ski teams 150yrs with Dave and Chuck
Chuck – Bronze in double ski and Silver in ski teams 150yrs with Matt and Dave
Whippy – Gold in ski race 70yrs plus
Annabel – Gold 35yrs plus Surf Race, Gold 35yrs plus board rescue, Silver 35yrs board race
Lyndall – Gold 35yrs plus Board rescue
Whippy – Four Gold in 70yrs plus – Ironman, Ski, board and Swim
Camo – Gold in 50yrs plus Ironman
Dwight – Silver 50yrs plus swim, Silver 50yrs plus Board and Bronze in 50yrs plus board rescue
Anthony – Gold 55yrs plus Surf Race, Bronze 50yrs plus Board Rescue
This is my last year as Masters' Captain, to make way for new blood (younger blood) to help build the team and gain more competitors in the 30years and 40 year age brackets. Plus Annabel is on the hunt to build the women's numbers and increase our overall numbers over the coming year so maybe she becomes Masters' Captain? I will continue to support and race Masters and hopefully others who didn't race this year will come back next year now Covid is manageable. Also, hopefully Jimmy Uncles, Nic Tisso and Matt Perrot will build their era to become the next Master chapter at Portsea with Annabel.
Thanks to Nat Hood for assisting with Masters Admin and entries and rules. Thanks again to Henry for officiating, and well done again to the team for racing, specially to Whippy and his four Golds, Dave Flock for racing after his cancer recovery and to our girls Annabel and Lyndall.
Best regards and signing off as Masters Captain, Dwight Harrison