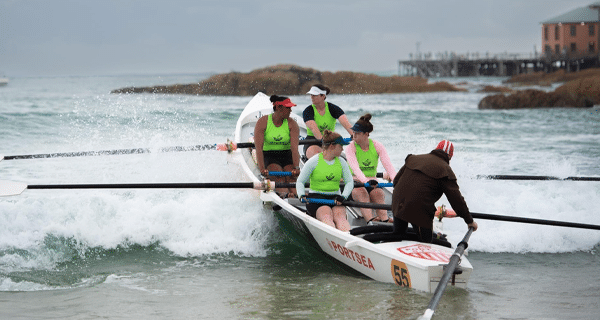 George Bass Surfboat Marathon
March 3, 2023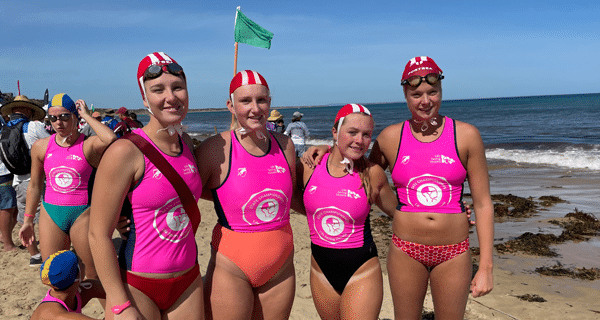 2023 Victorian Youth & Senior Titles at Ocean Grove
March 15, 2023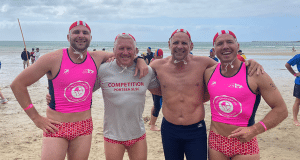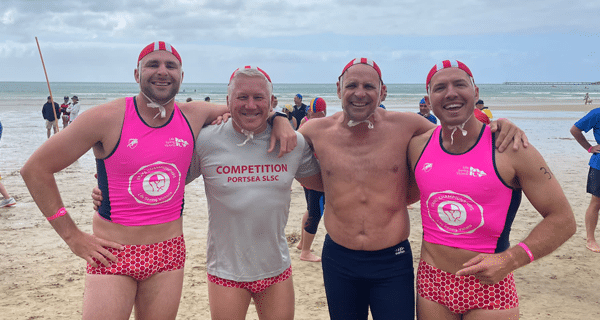 A small but extremely talented group of clubbies trekked to Lorne for the annual masters weekend full of optimism and hamstrings in place. A sign of things to come we hope! Once again the weekend was split down the middle with water events on the Saturday and beach events on the Sunday.
For the first time in a few years we were able to fulfil the women's taplin, great result! Chloe Hardman, Sue Crow and debutant Alice Miliani had a very successful day across the board with both individual and team performances sweeping home medals across the day- mainly gold!
Team wins in the women's surf teams, board rescue and taplin relays went nicely along with Sue's surf race demolition of the much younger field for gold, Chloe paddling really well to individual golds in Ski race and the iron and Alice a surf race gold to go along with it.
The gents had a smaller team than previous years but made up for it with a distinct lack of injuries and increased amount of optimism. Weird, I know.
Young-Old Bull Unkles came away with a surf race, board race and board rescue gold. Must be the sweetest two words in the dictionary. De-Fault.
Michael "Whippy" Wilson was in fine form once again being the fittest 77 year old on the planet, with golds in the surf race, board race, ski race and iron. Not to mention some medals in the taplin as well!
Rob Mellor must be body surfing a lot down the coast and taking his new daily routine very seriously, as a gold in the individual surf race was all his! Match that with a gold in the surf teams with Tom Kennan and Phil Harford and Rob's certainly enjoyed a celebratory raspberry lemonade, as he was feeling a little excited.
Lots of paddlers grinding it out, plenty of hacks all around, and plenty of tasty sports drinks followed that evening, to close out a busy day 1! Thanks to Henry Kiss for officiating, because it wouldn't happen without you!
Sunday saw the continuation of Masters competition, this time with beach events being held predominantly beyond the rock ground to the east of Lorne main beach.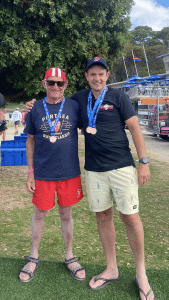 Our athletes swapped bathers for shorts and running shoes and hit the firm sand. The first event saw the 2km run take place over 4 laps of 500m. On a beach containing land mines of seaweed and soft pockets, Chloe Hardman, Alice Miliani, Michael "Whippy" Wilson, Matt Mahon, Brett Croft, Henry Kiss, Jim Unkles and Nick Tissot stepped up onto the line. In typical Portsea fashion, club banter was high with encouragement and friendly fire being thrown around as laps of the 500m course was run. Congratulation to Alice for winning the 30-34 Womens, Chloe Hardman for winning the 50-54 Womens, Matt Mahon for placing 2nd in the 50-54 Mens, Brett Croft for placing 2nd in the 50-54 Mens, Michael "Whippy" Wilson for placing 2nd in the 75+ Mens, Jim Unkles for placing 2nd in the 30-34 Mens and Nick Tissot for placing 3rd in the 30-34 Mens.
In a sigh of relief, all hamstrings and calves remained intact.
After the light warm up of the 2km run, competitors turned their slow twitch muscle fibres up a few notches to fast twitch for the 70m beach sprints. On a track length perfect for Masters – not too long and not too short, Portsea as always showed impressive speed skills on the hard sand. It was the luck of the draw with lower lanes closer to the water's edge digging starting blocks in pools of water and higher lanes battling softer sand edges but our competitors raced strongly with numerous top three positions achieved. Alice and Henry took out wins in their respective age groups, whilst Michael 'Whippy' Wilson, Brett, Jim and Nick placed in top three positions to also receive medal.
The most anticipated event of the weekend had finally arrived, the Mens 170+ Beach Relay (at least for Henry, Brett, Jim and Nick). An aura of energy and excitement surrounding the Portsea team as they practised batten changes and marshalled. Considered the team to beat and clear favourites, as determined by Henry, Brett, Jim and Nick, it was bound to be an exciting racing. Leading the first leg, Brett shot out of the blocks placing the team in a strong 2nd position, handing over to Nick, the pair slightly fumbled the batten but recovered as Nick pinned the batten to his chest, passing through to Jim, still in 2nd place, Jim put on a show and levelled the race to equal first before Henry, running quicker than in his glory days, stormed home for a first place win.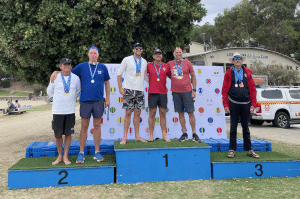 Beach flags were next. A strong favourite amongst spectators being right next to the action, showed a crowd surround the two flag pits to watch competitors battle it out. Alice Miliani in fine form continued her winning streak taking out another first place finish, Brett Croft ran strongly taking out 2nd place against Mount Martha, Jim unkles finished in a very respectable 4th place and Nick Tissot finished with a 2nd place against Black Rock.
Thank you to Chloe Hardman who assisted with LSV marshalling duties (in between racing) and to Jim Unkles and Nick Tissot who volunteered for IRB duties on Sunday afternoon. Overall the weekend was a terrific success with Portsea's refined but fiercely competitive team achieving 94 points overall and finishing in 5 place. Championship points are given when a competitor achieves a top 6 placing, as such, the larger the team attending on the weekend, the higher the opportunity to achieve more club points.
We look forward to seeing more Masters athletes racing next year.
We wish all competitors racing at Aussies Masters in Perth on the 27th and 28th March the best of luck!
Jim & Nick
Co-Masters Captains