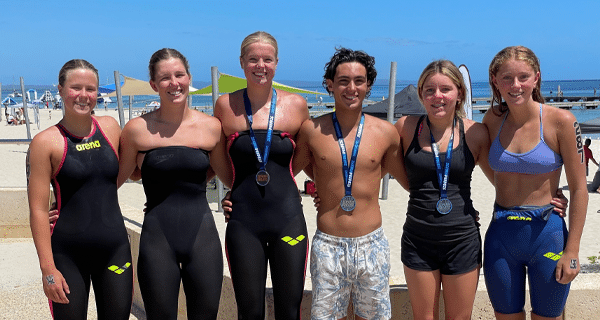 Portsea Open Water Swimmers Shine
March 3, 2023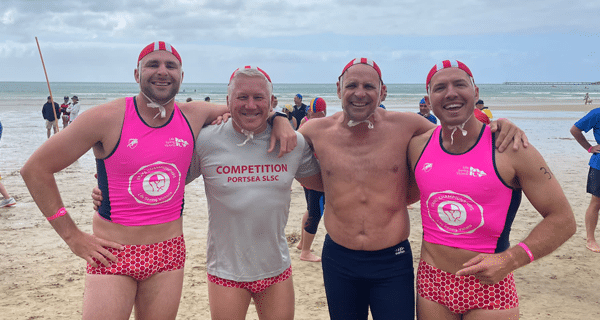 Victorian Masters 2023
March 15, 2023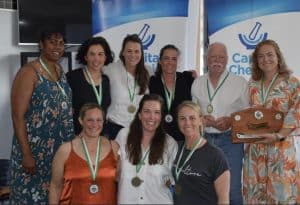 For 9 days commencing New Year's Eve our Open Women's Boat crew embarked on the biennial George Bass Surfboat Marathon. The event, which also caters for surf ski competitors, covers 190 kilometres of the best coastline in Australia, over 7 daily legs, starting this season, on New Years Day. Billed as "the longest and toughest surfboat marathon in the world' the event has a history dating back to 1975. In fact, Portsea SLSC raced in the inaugural event and finished 8th of 11 crews.
Our crew, by a wide margin, finished 1st overall and 1st in each of the 7 legs in the Women's Section.
Portsea SLSC was represented by Scarlett Blewett, Alex Hagan, Amanda Rukuwai, Emily von Moger, Jay Lambert, Sarah Norris, Jess Kelleher and Alexis Whelan. Stephen Blewett was the sweep of the crew. Jess and Aexis joined the crew from Mordialloc LSC and Mullaloo SLSC respectively, to make up the full complement of 8 rowers. The crew members were supported by a land-based support team, managed and catered for by club member Rhonda Blewett, composed of 10 family and friends, 3 dogs and a powerboat crew of a driver and 2 observers.
Crews were provided with free camping at venues at the Narooma sports ground and Tathra Country Club.
Each leg of the event is started in 'waves' commencing at approximately 3-minute intervals. The Women's division was usually the 3rd section away followed by 3 'waves' of Men's crews. Although we raced hard from the very start it was not until the better men's crews came up to us that we really hit our 'straps'. In most cases we matched, or very nearly matched, the boat speed of all the Men's crews save for the very strong Moruya Vikings Open Mens crew which won their division by a wide margin. Our downfall was in our deep-water changeovers. For the Women's section each team comprised 8 rowers with deep water changeovers of 'four out (and into a powered support boat) and four in' (from the support boat) at approximately 20-minute intervals. Unfortunately, we had no opportunity to practice changeovers and consequently lost a great deal of time during those manoeuvres, of up to a minute or so stationary on each occasion. The best crews made their changeovers without the boat stopping at all.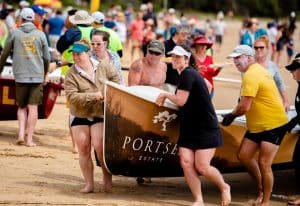 The event is an exhausting exercise and usually takes about 4 weeks or thereabouts for the rowers to make a full recovery. In our most recent carnival against top class crews, we finished a close second to the very strong Lorne crew however it was obvious that the girls were not fully recovered even some 3 weeks after the "Bass". History suggests that well performed crews for the event almost invariably fare well at the following "Aussies" National SLSC Championships.
Despite the best intentions of the organisers sea and weather conditions dictated variations to the course on 3 occasions. One leg was transferred to an inland course when surf conditions would otherwise have required crews to negotiate 2-3 plus meter surf, on rolling seats, to reach the offshore start line. Another leg was varied to avoid negotiating huge offshore waves and a third leg was reversed to avoid competitors and support boats driving into huge Southerly seas. It is not only crews that may be placed in jeopardy by adverse sea conditions. Support power boats must likewise accommodate very difficult conditions with the added complication that they usually must negotiate dangerous bar conditions in order to join the fleet each day.
Our powerboat support crew consisted of brothers Chris and Sean Pyke, and Peter de Szoeke from the Bronte and Moruya surf clubs. Without their assistance we would not have been able to compete in the event. We are very much in awe of their commitment to our cause.
Likewise, we are indebted to the organisers of the event, particularly Andrew Holt, the Race Director, for the excellent conduct of the marathon in extremely trying conditions and their patience in allowing us time until very late in the piece to finalise our commitment to join the field of competitors.
For future reference it might be a great opportunity for our club to field one or more surfboat crews and a number of ski paddlers. I cannot recommend participation too highly as a fantastic opportunity for the club to field a strong presence in the Fiftieth Anniversary marathon.
More details on the event head to https://www.georgebassmarathon.com.au/, and plenty of pictures can be found on their Facebook page.