By being a part of our Silver Camp in 2023 you will set yourself apart from the rest of and gain skills and certificates that elevate you through the ranks of Portsea and lifesaving in Victoria. Silver Camp 2023 will be taking place at Portsea SLSC from the 24th – 28th of September.
Silver Camp will involve a combination of theoretical work and practical skills, where candidates will improve their surf awareness knowledge, surf rescue practices, and become competent in IRB crewing techniques.
Registration Dates 2023:
Registrations OPEN Sunday 16th July 2023
Registrations CLOSE Sunday 6th August 2023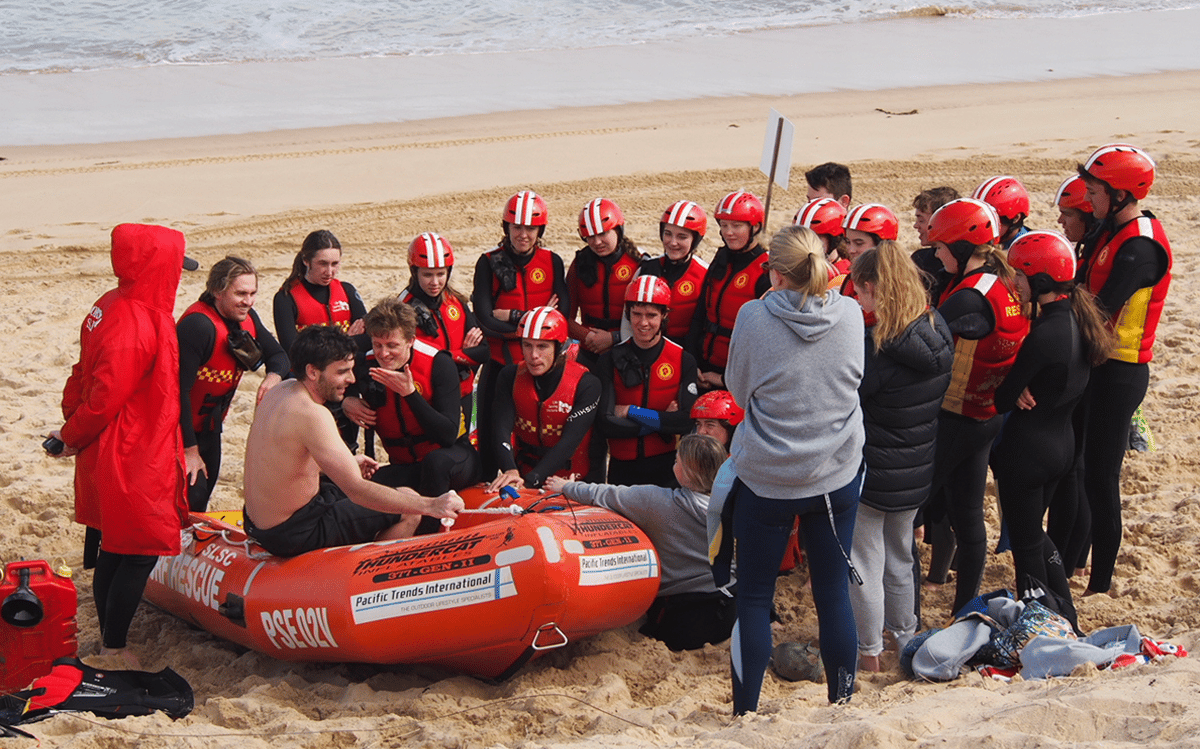 FULL OVERVIEW
OF SILVER PROGRAM
Click the READ MORE button for detailed information on the 2023-2024 Silver Program, including a Program Outline, information regarding Fees and everything else you need to know.
PROGRAM DATES
Silver Camp will run in September 2023, over the following dates:
24th September 2023
25th September 2023
26th September 2023
27th September 2023
28th September 2023
Silver Camp will be run as a live-in camp at Portsea SLSC.
SILVER TICKET
The Portsea Silver Ticket is designed to reward members that have shown commitment to Portsea SLSC with a heightened chance of selection onto Silver Camp. The base requirements for successfully obtaining a Silver Ticket are outlined below.
Only an applicant's previous season's contribution for patrol hours, Nippers & SRC instructing/water safety and volunteering at Portsea SLSC events will be considered in the Silver Ticket application.
At a baseline, all successful Silver Ticket applicants will have completed a minimum of:
26 hours of Portsea SLSC volunteering, which must be made up of a minimum of 20 hours of patrolling on Portsea back beach and the remaining 6 hours either met by helping as a Nippers or SRC instructor/water safety volunteer

OR

participating in further patrolling.
At least one day of volunteering at one major event: Portsea Swim Classic OR Pier to Perignon OR Portsea Bay to Surf.
Silver Camp application.
Minimum requirement
Rationale
Minimum of 20 hours patrolling
Successful applicants will have performed a minimum of 20 hours of patrolling in the season prior to their application.

It is expected that all dedicated applicants participate in patrols. While it is also an SLSA / LSV requirement that all active members complete a minimum 16 hours of patrolling, we expect our Silver Camp applicants to demonstrate a high level of dedication.

If you have not fulfilled this criterion, you are ineligible for a Silver Ticket regardless of your other club contributions.

Volunteering at Portsea Swim Classic

OR

Volunteering at Pier to Perignon

OR

Volunteering at Portsea Bay to Surf

Successful applicants will have volunteered their time at either the Portsea Swim Classic OR Pier to Perignon OR Portsea Bay to Surf.

If you have not fulfilled this criterion, you are ineligible for a Bronze Ticket, regardless of your other club contributions.

Volunteering for Nippers/SRC Instructing and/or water safety
Nipper/SRC instructing and/or water safety hours can contribute towards reaching 26 hours of PSLSC volunteering.

Please note that 20 of the 26 volunteer hours must be completed through patrolling. The additional 6 volunteer hours can be met through volunteering at Nippers/SRC or attending additional patrols.

If you have not fulfilled the minimum 20 hours of patrol but do participate in Nippers/SRC Instructing or water safety, you will remain ineligible for a Silver Ticket.

Silver Camp application
The Silver Camp Application form is a basic requirement that needs to be completed by all prospective Silver Camp applications.

In the application, candidates will be required to outline their reasons for wanting to attend Silver Camp as well as their current and past contribution to Portsea SLSC.

Please note that this application will be made available closer to the time of Silver Camp.
Silver Ticket applications will be considered in conjunction with the minimum requirements as well as the applicant's character and dedication to Portsea SLSC. All applicants who fulfil the requirements of a Silver Ticket will be granted priority registration to the Silver Camp Program.
If an applicant believes that they have been disadvantaged in some way and therefore were unable to fulfil the minimum requirements for a Silver Ticket, there will be an opportunity to apply for special consideration.
If you would like to discuss the Silver Ticket application process directly, please direct your questions to the Education Sub-committee, at education@portseasurf.com.au.