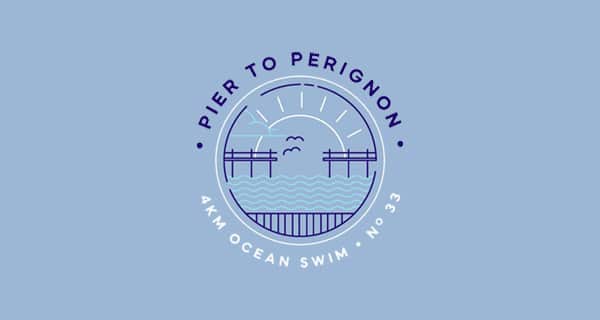 Messages from the founders of Pier 2 Perignon
March 18, 2021
Portsea Comp Team Victorian Titles 2021
May 4, 2021
The Portsea Beach Team at the Life Saving Victoria State Champs might have been small but it packed a fair punch, winning medals in eleven beach events. The men's team of Blair Nuske, Griffin Mitchell and Oscar Hunter won medals in NINE beach events and were backed up by Steph Hunter who took GOLD in the U17 women's 2km run, and Domi Hart who picked up the BRONZE in the Open women's 2km run.
First up Saturday were the individual 2 km runs, where Griff and Oscar went 1,2 for the quinella in the U19 event. Later in the day they paired up in the U19 2 x 1km team relay to take GOLD again. Next were the beach sprints – held in ideal conditions – a level, evenly packed, firm track. The boys reversed placings as Oscar snagged silver and Griff the Bronze in the U19, 90m sprint. Blair's debut this season saw him make the final of the Open Men's Beach Sprint – spurring him on to do some more training for next year.
Being 'short staffed' for the relays we needed to show some camaraderie on the sand. Not placing in the top 10 clubs at Vics two years ago made Portsea eligible to form combined teams with other small clubs. Chelsea Longbeach and Williamstown happily joined our young men as they teamed up to take GOLD in the U19 men's beach relay and SILVER in the Open men's relay. The U19 mixed beach relay team proved unbeatable as Portsea member Chloe Hoover (who competes for Hampton) joined the red and white team with another gun Hampton runner Mia, to bag another GOLD. Competition transfer papers are just a click and send away Chloe!!
After a team dinner and a good night's sleep, Oscar was back on the beach first thing Sunday for the run leg of the Lifesaver Relay (there are two poles to run around Oscar!!) and on to the U19 Beach Flags, winning a BRONZE to complete the colour set.
It's been many years since Portsea has seen such success in the beach events. We wish Griff and Oscar the best of luck as they fly north to Aussies representing Portsea in the U19 beach events at Mooloolaba in April. Looking ahead to next season, if any club members, from U14 – Open/Masters would like to join the team, we'd love to hear from you.
Full report of Team Portsea's success at the Championship to follow soon.