Easter Seafood Dinner 2022
March 18, 2022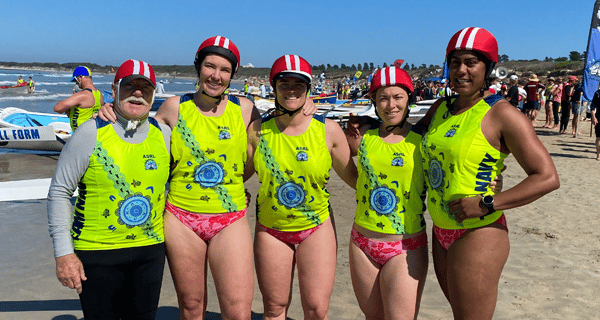 Boating at the Vic Championships 2022
April 8, 2022
The enthusiasm of the Portsea SLSC Junior Competition athletes, coaches and supporters has shined this season after last season was severely impacted due to Covid.
Throughout December and January the athletes got back into the swing of training with the focus being on increasing the valuable skills of surf swimming and paddling boards in the surf.
We had a wonderful cohort of competitors training on the beach after Nippers with the highlight being the great sessions we had at Portsea Back Beach going for long paddles out behind the surf break. The benefits of our training and skills program has immediate impacts on the ability of the children in the water and this will flow through to their development at Nippers, SRC and as Bronzies.
Over the past two seasons the Competition Team has implemented a plan for our Youth competitors to coach the Junior Team and special mention goes out to our coaches this season: Tom Regan; Steph Hunter; Emile Stitger; Harvey Larke and Luke Tucker.
Since our last update the Junior Team has competed at carnivals at Mordialloc, Pt Leo and the Victorian Surf Lifesaving State Championships at Lorne. The Team was led by our Captains: Josh Wills, Abbey Hogg, Paige Guthridge, Amber Larke and Tilly Wilson.
Our number of competitors from u8 to u13 was very strong with 30+ competing at each carnival. Mordialloc and Pt Leo were great carnivals in nice conditions and gave our competitors a taste of racing again. They all had a great time with lots of laughs, smiles and bonding as teammates.
The team then went to Lorne for the State Champs and competed over 3 days on 25-27 February. It was a massive weekend of competition with the kids doing water events on the Friday and Sunday in very challenging surf conditions, and beach events on the Saturday. Portsea's results were outstanding given the small size of our team this year. Our medallists were:
U13 girls Surf Teams Bronze – Abbey Hogg, Paige Guthridge, Amber Larke and Tilly Wilson
U13 Girls Long Run Bronze – Abbey Hogg
U13 Girls Surf Race Bronze – Amber Larke
U13 Girls Aqua Cameron Bronze – Abbey Hogg, Paige Guthridge, Amber Larke and Tilly Wilson
U12 Girls Surf Teams Bronze – Sophia Barnaby, Milla Cohen, Isla Morris and Freya Regan
U11 Girls Long Run Gold – Sophie Hall
U9 Boys Long Run Gold – James Hall
U9 Boys Beach Sprint Silver – James Hall
We also had many of our competitors making finals across all events so it really was a great effort given this was a State Championship that was very well attended by all of the Victorian Life Saving Clubs.
Importantly, our Junior Competition Team is not all about racing.  Friendships, personal development, surf skill development, fitness and leadership opportunities are all on offer.  Our parents, managers, coaches and officials all have a role to play and reap the rewards of being part of our developing team.  A special thanks goes out to Rob Wills, Nat Hood, Stuart Larke for their help with team organising; our Officials: Katrina McKenzie, Rob Wills, Charlie McNamara and Jeff Hogg; and all of our water safety at training and carnivals.
We look forward to the year ahead and welcome anyone wanting to include their children in the Club's surf sports program for 2022/23.
Regards,
Andrew Regan
Competition Director